Conte and Mourinho do not reignite a war of words this time around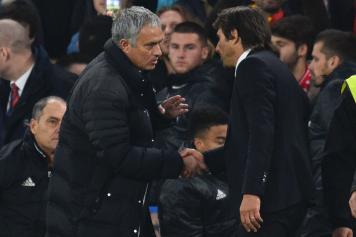 24 February at 19:30
Chelsea are set to take on Manchester United as all the talk has been around Antonio Conte and José Mourinho. This time around, both coaches did not begin a new war of words as they focused on speaking about the game. Conte spoke to the press in a pre-game conference as he talked about Nemanja Matic:
"Matic? I can only say positive things about him. He was one of the keys that allowed us to win the Premier league last season. He is now playing for Manchester United and I wish him the best going forward. Even so, we want to win tomorrow...".
José Mourinho also had talked about football related issues in his pre-game conference:
" Games against Chelsea now mean less and less. I have a good relationship with Chelsea and with most of their players. They were nice to me in a difficult time last summer when my dad passed away, so this I don't forget. Chelsea is now in the past for me but I will always remember the memories".
Both Mourinho and Conte did not want to reignite the feud ahead of Sunday's game between Chelsea and Manchester United at the Old Trafford.