Conte speaks ahead of Juventus-Inter friendly match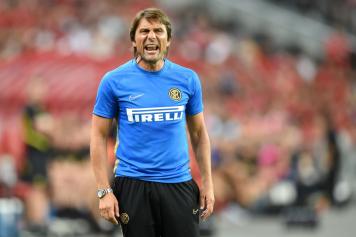 23 July at 12:00
Antonio Conte spoke to the media ahead of the match between Inter Milan and Juventus
which is scheduled for tomorrow (13:30 CEST) in the International Champions Cup.
"Playing these games helps you to assimilate even more the game concepts we work on, in the possession and non-possession phase. We analyze the positive and negative things in order to improve," he said.
"Vecino? He returned with an injury and is therefore working, he is very close to coming back. Godin started training with us. They are two excellent players and I am happy to have them available.
"It will be an important friendly against Juventus. Both teams are still in preparation and both we and they will try to play a good game and we hope to see improvements beyond the result.
"The transfer market? Reflections will be made and decisions will be taken for the good of Inter, taking into account everything, not just the field.
"It takes time to create a solid base to bring the club to the highest level. The changes that the new ownership has brought are under everyone's eyes.
"Chelsea? My English experience enriched me professionally but now I am happy to be back in Italy and be in charge of one of the most important teams in the country.
"I've never been close to Juventus, I never received a call. Inter has always shown great interest and affection. I, therefore, feel a great responsibility to create something important," Conte concluded.