Cristiano Ronaldo's tears ignite the fire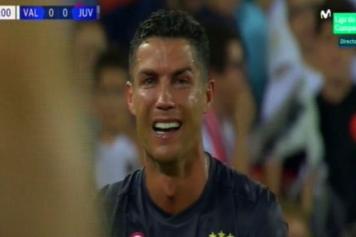 20 September at 19:00
Cristiano Ronaldo does not need anyone's help to gain attention. He can have the world glued to him whenever he wants, that's the sort of power he has.
The Juventus man is one of the best footballers ever, and millions tune in to capture every single move of his. However, there was one incident last night that nobody was able to catch, apart from the two officials on the pitch – Felix Brych & Marco Fritz.
The two German officials saw something that none of the players, the fans in the stadium and the millions watching at home didn't. The officials sent off Ronaldo for just touching Murillo's hair!
All that took place was a small collision that sent the Valencia defender tumbling. He made the most of it and Ronaldo, who was visibly furious, started screaming at him.
He then went towards Murillo and touched him on his head, asking him to get up and get going. Next, the 5th official was speaking with the referee, who returned to the pitch and showed Ronaldo the red card.
Why? Nobody knows. What exactly happened? Nobody knows. Was it necessary? Everybody knows – No.
Ronaldo immediately went down, flat on the pitch. The Juventus players surrounded the German referee, and the whole stadium was buzzing. Nobody understood what was going on, but one thing was clear – Cristiano Ronaldo was being sent off!​
The sending off didn't affect the match result as Juventus ended up winning, but it did send shockwaves around the world. The shouts for VAR are now louder than ever, and UEFA are under immense pressure.
Why the technology hasn't been implemented in European competitions yet is a big question. It is working well around the world and was a success at the World Cup too.
Dubious decisions have spoiled so many Champions League games, and the trend will continue unless VAR is introduced. So many knockout games were ruined, so many epic matches are remembered for the wrong reasons, and so many legacies have been tarnished.
But before UEFA can decide on VAR, they have a big meeting on Thursday. The UEFA Control, Ethics and Disciplinary Body (UCED) will meet that day and then again on the 27th, and the big topic will be Ronaldo's punishment.
Though he has done nothing wrong, it all hinges on the referee's match report. He's got a lot of explaining to do, and unless it's convincing enough, Ronaldo will be banned for one game – against the Young Boys on October 2nd.
However, if the referee gives a legit reason and the UCED find he was overly aggressive, he might miss both the games vs his former club, Manchester United.
No matter what the outcome of this is, the result is that Ronaldo's Champions League debut with Juventus will forever be remembered for the wrong reasons. There is nothing that's going to change that, and sadly, it's engraved in the history books forever.
Sripad K @falsewinger