Crotone-Inter player ratings: Skriniar and Handanovic top, Icardi & Gagliardini flop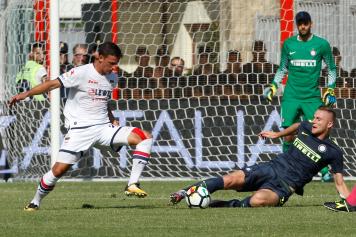 16 September at 18:00
Handanovic 7:
Produces one great saves on Tonev and one on Rodehen in the second half.
D'Ambrosio 6:
He defends well but doesn't attack much. Leaves the pitch in the second half due to a muscle injury (Dall'85'
Ranocchia
: s.v.)
Skriniar 7:
The former Sampdoria star scores his first Serie A goal after a brillian defensive performance.
Miranda 5,5:
Booked in the first half after a bad start. In the second half Tonev tests him with an impressive run, Handanovic saves him as well.
Dalbert 5,5:
Just like D'Ambrosio on the other part of the pitch he doesn't attack much (64'
Nagatomo 6
: Good understanding with Perisic on the left).
Gagliardini 5:
Not impressed by his performance, way too slow and not inaccurate (56'
Vecino 6:
Inter's ball possession improves with him on the pitch).
Borja Valero 6:
Highs and lows. He starts and dangerous counter-attack in the first half but in the second half his mistake almost cost Inter the goal.
Candreva 5,5:
Crotone doesn't leave him much space on the right.
Joao Mario 5:
The Portuguese wastes the most important chance of the first half. Not on the radars of the game in the second half but, at leaset, he provides the assist for Perisic's goal.
Perisic: 6,5:
Third goal in four league games with three assists as well. Finally consistent.
Icardi 5:
Perisic and Candreva do not assist him properly and he doesn't press Crotone players at all.
Spalletti 6,5:
Inter can suffer too.
CROTONE:
Cordaz 6;
Sampirisi 6,
Ajeti 7,
(66'
Cabrera 5,5), Ceccherini 6(
84'
Tumminello s.v.
);
Martella 6, Rohden 6,5(
72'
Faraoni 5,5:
ha poco tempo a disposizione. Si mette largo sulla destra senza incidere),
Mandragora 6, Barberis 5,5, Stoian 6; Tonev, Budimir
5.
Coach
: Nicola 6,5