Dani Alves apologises for insensitive comments about Astori's death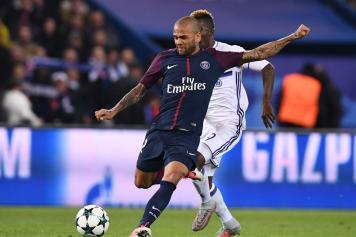 08 March at 19:00
Paris Saint-Germain right-back Dani Alves has issued an apology about delivering insensitive comments about the tragic death of Fiorentina captain Davide Astori.
The 31-year-old Astori was found dead in his hotel room during the morning hours of this past Sunday. The defender met his tragic demise hours before he was supposed to captain the Fiorentina side out against Udinese.
Dani Alves' comments about Astori's death had attracted criticism from many fans and one of them was Mario Balotelli, who was open about letting lose on what the Brazilian had said about Astori's demise. Alves though, apologised for his comments, as he took to Twitter.
Se o o Balotelinho falou tá falado, não tive intenção de ofender a ninguém, vivo em mundo que temos que ser hipócrita muitas vezes para que as pessoas gostem de ti but sorry ma people.... enfim, se alguém se sentiu ofendido, desculpaaa. https://t.co/L03x0HHZ39

— Daniel Alves (@DaniAlvesD2) March 8, 2018
The tweet said: "I know what Balotelli said. I didn't want to offend anyone nor will I want to offend anyone. I live in a world where you have to be hypocritical to be appreciated by people. I'm sorry. But if anyone has been offended, I apologise."
Kaustubh Pandey(@Kaus_Pandey17)