Daniele Belardinelli: Who was the Inter fan killed before Inter-Napoli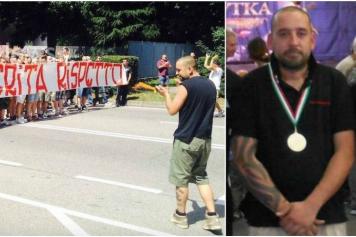 27 December at 17:00
Yesterday, during the fight between Inter and Napoli ultras, a fan of the home side was killed after being hit by a van.
La Gazzetta Dello Sport
have published a long article about the man, whose identity was revealed earlier today.
Everyone called him "Dede". He was one of the leaders of Varese's supporters. The red and white fans have always been twinned with Inter. Daniele Belardinelli, 35-years-old, was the point of reference for the ultras of Varese.
In 1998, the movement Blood & Honor was born. Nine years after the foundation, he was already the leader of this group that, on 11 November 2007, protested against the police outside the Franco Ossola stadium, at the end of the Serie C2 Varese-Lumezzane match.
The ultras, led by Belardinelli, didn't want the game to be played to give a strong signal after the murder of Lazio supporter Gabriele Sandri, which occurred on the morning of the same day. The Blood & Honor had asked Sean Sogliano, at the time sporting director of Varese, not to go ahead with the match.
The tension was not lacking because Belardinelli hit the manager with a slap in the face. For this action, at the conclusion of investigations conducted by the Anti-Crime Division of the Varese Police Headquarters, Belardinelli received a 5-year Daspo (football ban).

It was not the only episode in which Dede was involved. In 2012 he had received another Daspo from the Varese Police Commissioner for five years, since he was the protagonist of the clashes during a friendly match between Como and Inter, which ended with two hours of urban warfare.

Married and father of two children, in Varese he was also known for his successes with the Fight Academy of Morazzone. Belardinelli was a partner in a flooring and tiling company based in the Cantone of Ticino.
"He loved football, but we did not talk about it because I support Juventus and he supported Inter. I do not know what to say, he was a cheerful man," said one of Daniele Belardinelli's uncles.
"We often used to meet because we both worked in constructions - the uncle continued - I do not know what happened, I heard the news from TV," he concluded.