Daniele De Rossi apologizes for insulting Roma fans during Inter clash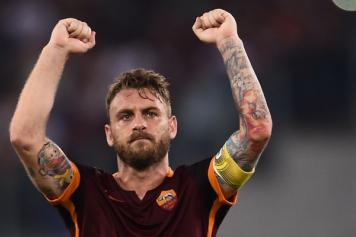 03 October at 15:32
Only a few people noticed it yesterday night, but Daniele De Rossi was involved in a controversial episode after Edin Dzeko's opener in the clash between Roma and Inter.
The Italy International was spotted while insulting fans in the Tribuna Tevere during celebrations for the goal of the former Manchester City striker.
De Rossi reportedly told fans 'pieces of s***' as they have been hitting out at the Bosnian striker during the last year and a half.
At the beginning of the interview with Italian TV, he jokingly said: "I've just told them to buy Dzeko's jersey...but in Bosnian!"
"I don't even remember what I said, when we score goals everyone becomes crazy and when Dzeko scores we are all a bit happier than usual because he's been suffering the whole situation."
"When those who are criticized for no reason score, I am even happier. I'd be happy if Iturbe scores as well."
"I wanted to insult nobody. It's been a difficult month, I didn't want to lose the captain armband, but I've accepted the manager's decision."