David Amoyal: Serie A players to watch rest of the summer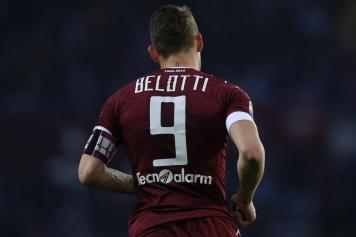 11 July at 14:05
The first half of the summer transfer window in Italy was rather eventful. Milan already completed the signing of seven players, Roma is going through a significant transformation under new sporting director Monchi, Fiorentina continues to lose significant players while Inter was able to meet their Financial Fair Play obligations without having to sacrifice Ivan Perisic. But what else can we expect from now until the end of the summer? this week let's take a look at some players who will certainly be in transfer news headlines:
Keita Balde
- the talented Barcelona youth team product has an expiring contract in 2018 and his intention is to sign with Juventus once his current deal with Lazio expires. Milan were also interested in signing him along with his teammate Biglia, but it now appears that the rossoneri are only negotiating with Lazio for the Argentine midfielder.
While this is a good sign for Juventus, the bianconeri were also burned with Axel Witsel who accepted another offer before his contract with Zenit expired- and because of the difficult relationship between Morata and Lotito completing a deal this summer is far from a slam dunk.
Mattia De Sciglio
- another player with an expiring contract who is on Juventus radar. While Milan knew that the wingback had no intention of renewing his deal, they acted quickly to not only replace him but also upgrade at his position by signing both Andrea Conti and Ricardo Rodriguez.
De Sciglio could head to Juventus as part of a deal for Juan Cuadrado or as an individual sale, if he does, Juventus will be banking on fact that both Max Allegri and Andrea Pirlo's brands were vastly improved upon arriving in Turin.
Federico Bernardeschi
- while just a few years ago Fiorentina refused to even negotiate a potential sale of Stevan Jovetic to their bitter rivals Juventus, things have changed now. The Della Valle brothers are looking to sell the club, and after a recent meeting with Bernardeschi's agent, they have been informed that the player won't renew his contract and wants to join Juventus.
A deal could be reached with the bianconeri for over 40 million with no bonuses, it will be interesting to see if Juventus signs both Bernardeschi and Diego Costa- should that happen, Juan Cuadrado would likely be on his way out since at some point next fall Marko Pjaca will be back from his recent knee injury.
Nikola Kalinic-
while Monchi was mocked for saying that Roma isn't a supermarket, it looks like Fiorentina isn't afraid to let it be known that they're ready to start fresh by shedding their veterans and starting over with young players. The Tuscan club's sporting director Pantaleo Corvino stated that Borja Valero and Federico Bernardeschi would leave, he also said that the Croatian striker would stay- shortly after that statement, Kalinic let it be known publicly that he wanted to join Milan.
Should the rossoneri not be able to complete a deal for Pierre Emerick Aubameyang, then it's likely they will acquire Kalinic as an insurance policy for Andre Silva- having another starting caliber striker on the squad would also allow Montella to use different formations rather than just the 4 3 3 he mainly employed last season.
Papu Gomez-
after selling Roberto Gagliardini, Frank Kessie' and Andrea Conti in 2017 could Atalanta also let their captain, and arguably most important player, go this summer? The Argentine winger will turn 30 next February and may want an experience at a top club.
Gomez will return from vacation soon and will meet with Atalanta's president Percassi to discuss his future, what is almost certain is that if he were to leave Atalanta it would be for a top team, preferably in the Champions League, since Gomez has stated he doesn't want another experience like the one he had at Metalist Kharkiv which was largely driven by financial reasons.
Andrea Belotti-
there are many misconceptions with Il Gallo's exit clause. For one it was inserted in response to Juventus signing both Gonzalo Higuain and Miralem Pjanic from rivals last summer- by making it valid only outside of Serie A, Torino wanted to avoid seeing their top striker join their cross town rivals. Long and short of it, should Milan or a Serie A club over than Juventus meet that 100 million euro asking price, Torino would almost certainly accept it.
In addition, the reason Torino made the clause so high was to make it hard for Belotti to leave in the first place- the granata have substantial revenues coming from the Maksimovic loan with forced option to buy and would love to keep Belotti another year. The striker also agreed to the clause in exchange for a big raise, from his perspective staying at Torino, in a system where he's comfortable, the year before the World Cup isn't also such a bad outcome.
Atletico Madrid had tried signing Belotti before their transfer ban was confirmed, they had come close to meeting the 100 million asking price by also offering a few prospects in addition to a substantial financial package. It's not out of the question that Torino would accept a similar bid from another club before the summer ends.
Geoffrey Kondogbia/ Marcelo Brozovic-
Inter's new manager Luciano Spalletti is using the first part of the summer retreat to evaluate which players he wants to keep- and with Borja Valero coming in, it's more than likely that we'll see one out of Kondogbia or Brozovic leave.
After a very difficult first season in Serie A, the French midfielder went through an impressive stretch playing alongside Gagliardini under manager Stefano Pioli- of the two he's the most likely to stay also because Inter invested substantially more in him than Brozovic.
Sergej Milinkovic Savic-
while Lazio has three key players with expiring contracts with Biglia, Keita and De Vrij they were able to look up the uber talented 22 year old midfielder to an extension last April. Milinkovic Savic really strived under manager Simone Inzaghi, and has all the tools to become a world class midfielder- he combines strength and height with good technique and positioning. While he will likely be linked to top clubs this summer, Lazio will do all they can to hold to him as his transfer value is only expected to raise after next season.
Radja Nainggolan-
after Salah, Totti, Rudiger and Spalletti could another significant name be on his way out at Roma? Sunday's Instagram exchange involving Strootman, Salah and Naiggolan could be seen as rather significant and it's also not out of the question that Roma just to decides to go for a full rebuild under new sporting director Monchi. Nainggolan has been linked to Chelsea and Manchester United, and Inter certainly has the resources to reunite the versatile midfielder with Spalletti.