De Boer: 'Inter not thinking of Scudetto, Brozovic needs to train hard'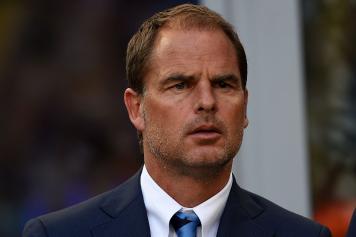 12 October at 20:35
Speaking today at the inauguration of a new line of Inter Cars, Nerazzurri Coach Frank De Boer claimed that he's "not thinking of the Scudetto" before sending a coded warning to Marcelo Brozovic, hinting that the Croatian wasn't pulling his weight in training.
"I don't know if they [Brozovic and Kondogbia] will be on the pitch [on Sunday against Cagliari]," he told Premium Sport, "I don't know the lineup yet, but they're very important to use.
"Brozovic is very talented, but he needs to show them both at training and in games".
He then covered this weekend' game against Cagliari, and another topic or two: "We need to give everything against every team, even against Cagliari. We trust in our philosophy, we must do well against all teams.
"I think we're doing a good job this week, the players who are back from international duty are in good shape and I'm confident we'll get a good result against Cagliari.
SCUDETTO
"I always want to win the title, but every single game matters more to me. We're not thinking about the Scudetto, we'll see where we are in March".
NAPOLI-ROMA
"I'll definitely watch it, I always want to watch quality games and these two two high-calibre sides, and they're our opponents. As a person I like to watch good games and this will definitely be one".
@EdoDalmonte