De Bruyne warns Hazard: Defenders will be targeting you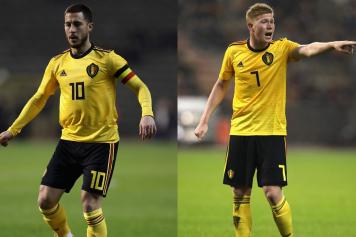 14 June at 10:40
Kevin De Bruyne has warned team-mate Eden Hazard to keep a cool head in the upcoming World Cup.
Drawn in Group G alongside defensive sides like England, Tunisia and Panama, the Red Devils are considered outsiders, as they boast a very talented side with question marks about coaching and a presumed lack of winning mentality.
Hazard limped off in a recent mauling of Costa Rica - in which Belgium's attack really shined - prompting De Bruyne to warn him about the risk of reacting David Beckham or Francesco Totti-style.
"If you are good, then people try to kick you," De Bruyne told reporters at the Diables Rouges' training camp.
"You need to calculate what is coming. You try to stay calm as much as possible. Sometimes that isn't easy, but you just try."
"Even if he [Hazard] gets kicked, we get a free kick, an advantage, and they get a yellow, so it is positive," the 26-year-old said.
The two playmakers totalled 20 goals and as many assists between them in the Premier League this season, with De Bruyne instrumental as Manchester City won their third EPL title.
At 27, Hazard has spent years as the focal point of Chelsea's attack, and has been on the receiving end of some pretty brutal punishment.