De Laurentiis hits back at Sarri, reveals release clause of Liverpool target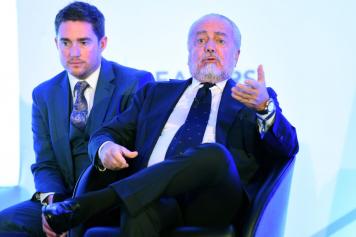 11 September at 09:57
Napoli president Aurelio De Laurentiis has spoken to
Il Corriere dello Sport
about the campaign of the
Azzurri
and his relationship with Maurizio Sarri.
"I believe in Ancelotti and I strongly wanted him. I trust him, he has plenty of experience and I will never interfere with his job whatever thing will happen. I gave him the keys of Napoli, he and my son Edoardo are now in charge of the club. I will focus on cinema and tv."
"Ronaldo? We couldn't afford him. If we had known about his signing we could have sold the tv rights for Serie A at a higher price. Var? There are many things that are not ok. I think the referee should be guided by an external team of referees. His discretionary should be eliminated. If he is not told about a foul, then there is something behind. Clubs must make sure their investments are not done in vain."
"Insigne? He has a symbolic release clause. With [his agent] Raiola we decided that we are only going to sell him for € 200 million. It's not a written agreement but a verbal one. Two-hundred million, right?"
"Sarri? It's an endless story. He said false things but this time I don't want to reply because it would become an endless drama. I am happy with Ancelotti and I've never spoken with Sarri since he left."
"I've asked Uefa to play Champions League games at Bari's San Nicola, I am open to paying the transportation for Napoli fans."