De Laurentiis: "Sarri wanted to ruin Napoli by taking all of our players to Chelsea"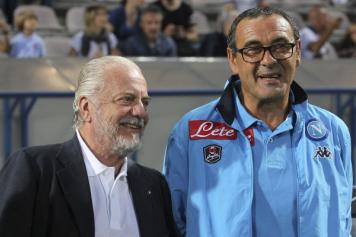 21 July at 19:35
Maurizio Sarri was on Chelsea's radar for months but a deal finally only occured last week. Alongside Sarri, Chelsea also acquired Jorginho from Napoli too. Sarri is now Chelsea's new boss as it isn't a secret that he has his eyes on many of his former players (and Serie A players in general). Here is what Napoli president Aurelio De Laurentiis had to say about Sarri's move to Chelsea as he spoke to
Sky Sport Italia:
"Sarri-Chelsea? I didn't like it when he said that we both made mistakes. I don't think I made any mistakes. I think it was the right thing to do to challenge him. He wasn't acting in the right manner considering he was under contract with us. He didn't show much respect to the players as he massacred them during his famous training sessions. The players always gave a lot to him. Move to Chelsea? Well he wanted to bring the entire Napoli team with him in London. I had to show Marina who was the boss here. I allowed Jorginho to go to London since Ancelotti has a lot of hope in Diawara and he plans to use Hamsik in a deeper position...".