De Ligt explains why he chose Juve and denies PSG refusal because of Mbappe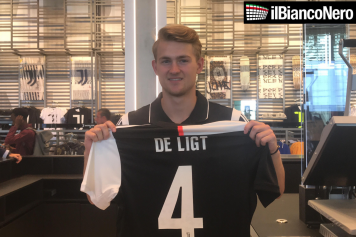 21 July at 12:00
Juventus' latest signing Matthijs de Ligt spoke to AD
and reflected on his choice to move to Turin instead of joining Barcelona or Paris Saint-Germain.
"When you think of Italy, you think of the defence. The greatest Italian players in history were defenders. As a child, I was a fan of Baresi, Maldini, Cannavaro and Nesta. I still have a Juventus jersey from when I was 7," he said.
"I think coming to Turin could make me a more complete defender. Naturally, I grew up at Ajax, with a focus on total football. Here you want to play beautiful football but the most important thing is to win, of course. With players like Buffon, Chiellini and Ronaldo around me I can take the next step. They have a lot of experience and I will try to get something from each of them.
"The craziest thing I read is that I didn't go to PSG because I wanted to earn more than Mbappe. Nonsense. I always told Raiola that I would announce my destination after the Nations League. Until then I wanted to keep the attention high on the field.
"As soon as I told him of my intention to go to Juventus, he started working for this. Money had no role for me, everyone who knows me knows it. Mino is my agent and takes care of business, the economic aspect came after the sporting choice was made," de Ligt concluded.