De Rossi discusses future: 'I would like to live in America'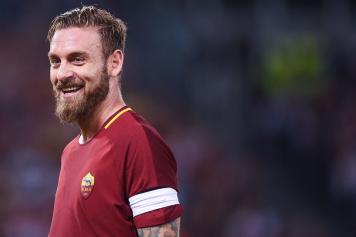 15 September at 12:30
Veteran Roma midfielder Daniele De Rossi is 35-years-old now and still featuring regularly at the heart of Roma's midfield. De Rossi has been with Roma since joining as a youth player in 2000, playing for the Capital club for 18 years, making 594 appearances for the Giallorossi in all competitions.
Speaking in a lengthy interview with
Il Romanista
, De Rossi opened up about his future, his time in Rome and the club that he has fallen in love with over the years:
"The link is good, they are many, but they fit in. This is a healthy group, it helps new players, embraces them and welcomes them in a spontaneous and positive way, for me, I would always keep all my teammates, also because I get attached and when a partner goes away I'm sorry, then there are ideas of the coach, the president, the director and I have to put everything together. I can not know these things. is, that these arrivals are strong that the team is strong."
ON MONCHI –
"The relationship is correct, friendly, he is the director, I am the captain, not a player who has not bought but confirmed, then one of his players. It was a busy market. He too is under pressure, I see him, we have to work. He's always inside things, in the locker room, he wants to know everything, he's meticulous, taking care of us. I am one of his first interlocutors as captain."
DI FRANCESCO –
"Di Francesco is part of all this. We talked today too. our strength is that we have already moved on. With work. following the coach, with our strength, letting us drag from the stadium we came out better than we were and what we could hope for. Tell me to explain Rome-Atalanta ... Go with your mind to Rome-Atalanta and then to Rome-Samp, to Rome-Milan, even to Rome-Fiorentina, to what was said ... There have been hard times, but then if you think about last season you think about a super exciting season. And we did it with the fans and following the coach. Last year we came out with the sequins on the chest. The coach is sorry and disappointed. but not demoralized. The calendar was not simple, but just as laps are 4 points in 3 games."
ON FUTURE –
"Sooner or later. I do not know yet when. I have already done a season like this, as they say "poor", but in the sense of the contract expiring, and it was one of my best seasons. As soon as Monchi arrived I renewed, the day after Totti's farewell. That renewal was not so obvious. few have understood it. The situation does not create problems for me. I would like to live in America, but I will be able to live it as a player, otherwise I went to America this summer on holiday. Boca? I can go and see Boca-River in a stadium that drives me crazy, but I do not want to waste time, leave a bad memory of me elsewhere."
For more news, views and features,
visit our homepage.