De Rossi farewell to Roma: the end of the innocence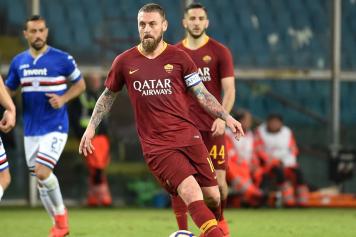 14 May at 11:00
The end of an era. The announcement, from the official Twitter of the club that the next match will be the last one played by Daniele De Rossi with the AS Roma shirt, has thrown all the supporters in despair.
After Francesco Totti decided to hang the shoes on the nail in 2017, De Rossi had inherited from him the captain's armband. And the prophecy of his eternal nickname "Capitan Futuro" (Captain Future) become true, but just for two full seasons. Roma have been deprived, step by step, of their symbols and of the men who represent the crest and the colours of the city.
All of this, in a club with a fan base for which the symbols still have the importance of the football of the past, of that football that today there is no more and that we remember with nostalgia. And regret.
I know what you're thinking about. It's not the time if the Baresi, Maldini, Bergomi, Scirea or Bruno Conti anymore; it's not the time when players decided to devote their whole career to a single club, to one only short. And maybe that's why this morning AS Roma supporters have woken up with a strange feeling: because more than the end of an era, the departure of De Rossi represents for them the lost of the innocence.
They already knew that football has drastically changed in these years, but watching players like Totti and De Rossi they grew the illusion that something of the calcio that they liked, one of the symbols and the flags, was still remaining. Because the flags don't fall down. Flags and symbols are the only factors of continuity between the past and the future, in a football that tends more and more to cancel membership and representativeness.
It is true that as an old motto of the Roma fans said, "men pass, Roma remains", but De Rossi was not, for the club, just a player. He was a symbol. What's going to happen now is like a film we've already seen. Roma will become, more and more, a club with less and less identity and the risk, in a football like this, is the disaffection from the fans. The alternative for the fans will be the acceptance of the fact that the world of football that they love doesn't exist anymore. And they have to lose their innocence to become what the owners of today's football, more and more, wants supporters to be: customers.
Emanuele Giulianelli @EmaGiulianelli