De Rossi press conference: 'I hope Totti will take as much power as possible. And maybe one day I will join him'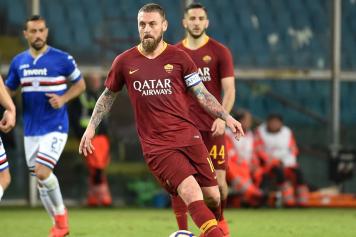 14 May at 13:41
Departing Rome midfielder De Rossi spoke about the club's decision to renew his contract at a special press conference announce two to his departure.
With today's maturity, would you have made different choices in your career?
"In some things on the field such as unpleasant episodes, expulsion etc. perhaps yes. I would never change it. I'd put a few cups on my cabinet if I had the magic wand. I made some mistakes, but the opposite was impossible. "
You haven't talked much, but you've always said significant things. The fans have dedicated so many thoughts to you today, you have represented a scudetto for them. Is it just rhetoric for you?
"The fans have shown in many years to really keep me. And I made their choice. I didn't change them for some hypothetical cup. There were 3-4 years when I could go to teams that could win more than Rome. We chose each other. Today it would be a tragedy if one of us said the opposite. Maybe as a former footballer, they will find me in some guest sector. "
Will you accept the proposal of Rome not as a footballer?
"I was informed yesterday but I am almost 36 and I'm not stupid, I understood. If nobody calls you for ten months, that's the direction. I've always talked little, because I don't like it and because I didn't want to make noise that could distract the team. Regarding the future ... I would like to thank the CEO for the offer and how he treated me in these months, but also Massara, the feeling that there was affection and esteem was strong with them, the feeling that he could go ahead as a footballer, but the club chose it this way and I have to respect it. I heard something about my future, but I didn't want to look for anything. Until the draw in Genoa I was convinced that the Champions League was within our reach, now it's very difficult I feel like a footballer and even with physical problems I really want to play football,I would do myself a wrong quit. "

Wouldn't you have preferred to decide whether to decide or not?
"I also told Totti, on this I disagree. The club that decides, then we can discuss how important I could still be. Even with 10-12 matches or as a locker room man. I was disappointed; distances created these misunderstandings. As a fan, I hope they will improve this. The fans in recent years have joined the goodbye of Totti and with Barcelona.

"I can give the fans a few tips because I learned from them to love Rome. The only thing I ask is to stay close to the players because they are good people.

You have always said that you would like to coach, now they offer you a managerial role. Have you reviewed your plans?
I believe we can have little influence in this situation, I hope Totti will take as much power as possible. And maybe one day I will join him. Now I would like to do a job that I feel more in, but I have to study.

Is the captain's legacy safe with Florenzi?
"Romanism is something that has mattered a lot for us, it is something important, and it is in firm hands. Lorenzo and Alessandro can continue with this line, they should not be asked to mimic De Rossi or Totti. I want to say that there is he is a Bryan Cristante who is not a Romanist, he is from the North, but I would like a hundred more like him ".

Do you remember the word regret, in your opinion why did you miss that step in these years? What game would you change?
"Perhaps the freshest is Liverpool-Rome. Everyone has regrets, even Messi who never won the World Cup. This is a way full of ambitious people, I just have to thank them for the career I did, similar to that of my father, he is my idol and I am proud of him. I am a lucky boy, with wonderful companions and adversaries. The hatred I felt in Naples, Bergamo or Reggio Calabria made me feel alive, I am happy to have had some 'enemies' that identified with me ".