De Rossi's folly costs Roma € 30 million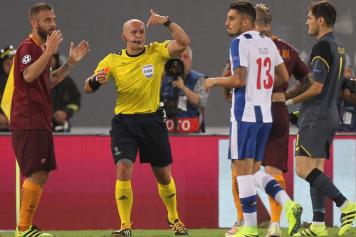 24 August at 16:33
AS Roma's Champions League campaign finished before its beginning.
Porto's Felipe netted the opener in the 9
th
minute of the Olimpico clash, before Daniele De Rossi's hard tackle on Maxi Pereira left his teammates with one man down and the whole second half to be played.
Emerson Palmieri ended De Rossi's job picking another straight red card for a similar tackle on Corona just 5 minutes in the second half.
De Rossi, unfortunately, is pretty used to this kind of behaviours on the pitch. He is not a dirty player, but sometimes, especially when things are not going the right way for his team, he just loses his mind.
The red card picked against Porto yesterday night is the 14th in his career
(12 with Roma and two with Italy national team).
This time, however, his mistake is going to cost his team not only in footballing terms, but also in terms of money.
The giallorossi would be guarantee somewhere around € 30 million for making it through the play off stage, lack of incomes will force Walter Sabatini not to buy any other midfielder this summer with AS Roma that had set sights on both Joao Moutinho and Borja Valero but with no money available anymore they are not going to sign any midfield reinforcement in the current transfer window.
Daniele De Rossi and AS Roma proved not to be ready for the big stage of Champions League yesterday night. The Italy International's salary has always been a matter of concern for all
giallorossi
fans. From today, they are going to have more reason to moan.