Dembele reveals which clubs he turned down before joining Barca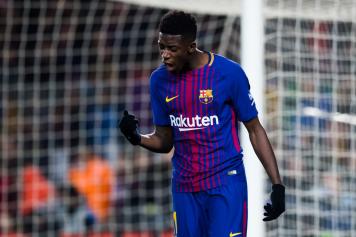 02 March at 22:30
Ousmane Dembele has told Onze Mondial that he had turned down approaches from both Real Madrid and Paris Saint-Germain before joining Barcelona last summer.
Dembele defended the behaviour that forced his move from Borussia Dortmund after he went on strike, refusing to train unless the club allowed him to move.
And he revealed that he had held talks in Paris before deciding against a return to his native France.
"I met [PSG president] Nasser [Al-Khelaifi]," he said. "We had set up a meeting. It went really well. He's a great president.
"What struck me about him is that he is very humble, he's calm -- I had never seen that. Honestly, he's a good guy."
However, Dembele shook his head when asked whether he had been tempted to move to the Parc des Princes.
Dembele said he had rejected Barca once in order to join Dortmund when he left Rennes in the summer of 2016, but promised them he would not do so a second time.
"I had had a meeting with Barcelona. I had told them: 'For next season it's not possible, but the next time you contact me, I'll come,' and that is what happened," he said.