Di Francesco: 'Chelsea? Dzeko is important to us. On Nainggolan...'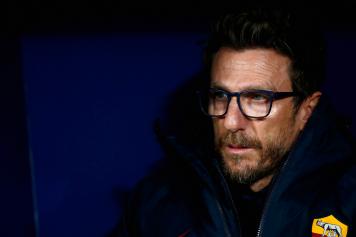 21 January at 23:35
Eusebio Di Francesco spoke to
Premium Sport
after the Inter-Roma (1-1) game, here is what he had to say:
" I didn't have many options in the midfield and then El Shaarawy and Gerson picked up cramps. We could've been more compact tonight, especially towards the end of the game. It's too bad and even if we had a lot of injuries, we wanted to win this game. I think we deserved more tonight but it is what it is. Dzeko? He is part of our project, that's why he played tonight.
Chelsea? I don't want to talk about the transfer market but he is an important player for us.
Strootman? he played a great game indeed. I like it when he plays a physical game and I surely liked how he played tonight. Would you re-do any of your changes? No, I didn't have many options because of the injuries so I am happy with who I used. Nainggolan-China? No, there aren't any possibilities. Radja will be staying here that's for sure. I am happy by how he has been playing for us of late...".
(@Calcionews89)