Di Francesco explains what Roma needs ahead of the game with Real Madrid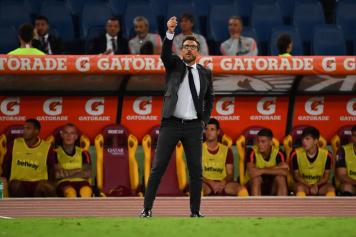 16 September at 15:35
Roma coach Eusebio Di Francesco spoke to DAZN after the game against Chievo: "I'm definitely disappointed, it's those games I do not like. We have been a little bad and concrete, we also concede goals too easily while granting very little. With the 4-2-3-1 we removed lines of passage to our opponents, we were not good at closing them. Clues before the Birsa goal? Chievo in the first half played well, we improved in the non-possession phase. I repeat: we lacked the goal of safety and we have conceded at the end ".
ON REAL MADRID -"These results can affect the players' heads and it does not have to be that way. We develop important maneuvers, but when you play in this way you have to score four or five goals to take home the three points. In Madrid this cannot happen: you have to do a great defensive performance to do well in attack ".
On Cristante as a trequartista "I wanted to try to give more chances on the flanks. This has paid off but for some part of the game, because in the end we conceded goals anyway".