Di Francesco: "Lazio opted for long balls, we could've done better"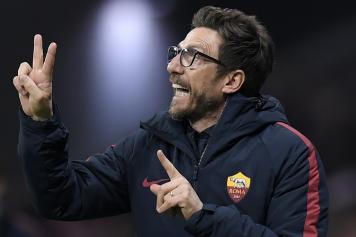 15 April at 23:25
Di Francesco spoke to Mediaset after the Rome derby, which ended 0-0.
"It was a dirty game, we played a lot on the second balls and after we changed a few things, we grew. We'll take this point.
"Ünder? When he came on I changed our system. We could've done better because Lazio were down to ten men, although we created chances.
"Manolas? He suffered a knock, but it was just cramp. El Shaarawy? He came on with the right look, I always expect more from Stephan.
"I have to say I liked the team in some respects and in others, I didn't. Both teams opted to go for long balls. I do understand, however, that it is a different game to the other league games.
"Today, the two attacking midfielders didn't move well. Schick relied too much on Dzeko. Why do you see a different Roma in Serie A? Because we're not playing in Champions League (laughs ). Lazio often opted for the long ball and turned the game into a scrappy one, with Barcelona it's different."