'Disappointed' Gattuso reveals AC Milan biggest regret and explains Higuain struggles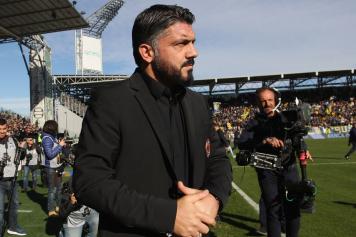 27 December at 20:18
AC Milan manager Gennaro Gattuso spoke to
Milan Tv on Thursday night to comment on the bad moment of the Rossoneri side
: "Fear prevails when the lads understand that there are big games ahead of us. The first half in Frosinone was really disappointing. It seems that Frosinone were playing for the fourth spot. Three days ago we were only one point away from a Champions League placement. We want to do things but in the end we never complete the job. The defense seems to be sorted but we have problems up front now".
"We never hurt our opponents, mistakes are normal but we need to solve them and be helpful for the team. Our opponents always win every duel lately".
ON RACISM –
"I agree with Ancelotti, we are not the only nation where these things happen. I don't think Italy is a racist country, most of the times it's the fault of three or four idiots. It's time to stop games, football needs to stop. We need to improve, it's fine to stop games because of racist abuses".
REACTIONS –
"We changed our style. We used to do 7-8 things pretty well but players have changed and we are now struggling to put things into practice, sometimes we are too predictable. Apart from the Bologna game, we've always created chances. It's not the worst moment of my managerial career at AC Milan. In Verona or Benevento last year we looked like a musical band, without offense for musical bands that have great interpreters. It doesn't take a lot to regain enthusiasm".
HIGUAIN –
"He missed an important penalty, he got a red card and the whole world spoke about him. These things can leave a mark on you. I want to see the Pipita of the second half, he didn't score, he missed a good chance but that is the kind of player that I want to see. Suso is having problems and Calahnoglu is not performing as he should".
TABLE –
"There is too much pessimism. We could have done more, but I don't like this atmosphere. People need to understand which players we have and which players we've been missing. It looks like we have to trash everything we've done and I think players feel this. I don't like excuses, I am sure this team will score again soon, we will do it, we are close. We sort things out at the back and the same will happen up front".
2018 –
"In the last few years, AC Milan had no more targets in March. Our aim is to remain close to the Champions League placements. In springtime, we must be close to our target. We can only do it by focusing on the present, a Champions League placement is our scudetto. We didn't manage to gain a bigger advantage in the fifth place and that's our biggest regret. Big teams like Roma and Lazio are our competitors, and in two days we have a new battle against Spal. We can only win because we've done enough gifts".