'Disappointing' Ronaldo criticized for Mandzukic's goal reaction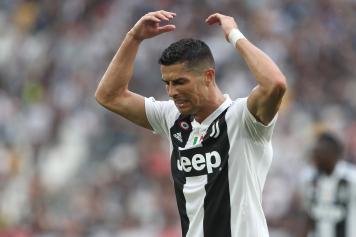 26 August at 15:45
Cristiano Ronaldo has been criticized by football fans on social media after his reaction to Mario Mandzukic's goal yesterday.
​CR7 is still seeking for his first official goal with the Old Lady and he came close to scoring in his Allianz Stadium debut yesterday.
Lazio goalkeeper Strakosha, however, deflected Joao Cancelo's pass with the ball that went past him and allowing Mario Mandzukic to close the game.
​Ronaldo seemed disappointed for a few seconds but started to celebrate Mandzukic's goal shortly after.
Meantime
Marca
comments the performance of the former Real Madrid star: "Juventus fans had been waiting for his first goal with Juventus but it didn't arrive. Ronaldo had always scored at the Allianz Stadium before yesterday but he is still without his first goal with Juve. Allegri played him on the left and Ronaldo didn't have the same impact he had at Verona."
Gallery: Twitter comments Ronaldo's goal reaction