Djordjevic has abductor tear, out for Roma Derby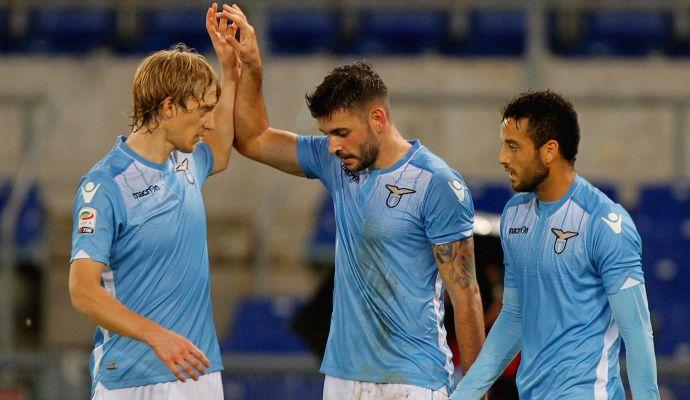 2015-07-10 - 11:50
Promising Serbian striker Filip Djordjevic is on the sidelines again. As revealed by an official Lazio communiqué, the Serbian striker will be out at least a month because of a muscular tear in the abductor in his right thigh.
"The medical team announces that Filip Djordjevic has sustained ultrasound and x-ray tests to his right abductor," Lazio's website stated.
"They confirmed the presence of a muscular lesion in his large abductor."
As usual, Lazio haven't specified the exact nature of the injury, nor indeed when we can expect Djordjevic to be ready to play again. That said, we have enough information on hand to ascertain that the 28-year-old has either a first degree or a second degree strain.
The difference between the two is in the amount of muscle fibres affected, with a first degree requiring a three-week stop, and a second four to six weeks.
This would be enough to force him to miss a month at the very least. Unfortunately for the Capitoline side, this means he's slated to skip seven games, including Lazio's twice-yearly tussle with hated rivals Roma, as well as the team's double Europa League date with Norwegian giants Rosenborg.
As reported by Il Tempo, the Serbian hopes to be back for the 22nd November for Lazio's home game against Palermo, which comes just after the last international break of the year.
It's been a horrible year for the former Nantes hitman. Having started last season with eight goals in 22 league and cup games, Djordjevic went on to miss most of the second half of the season with a spiroid peroneal malleolus fracture sustained against Milan on January 24th.
Things haven't exactly gone much better this year, with the Serbian forced out with an ankle inflammation connected to his fracture. As soon as he returned, Lazio fans got a glimpse of his considerable potential with two goals in three Serie A games.
Unfortunately, he played till the end against Frosinone with pain in his adductor, having also sustained an ugly hit to his cheekbonne.
Coach Stefano Pioli will be able to console himself with Miroslav Klose's return. The German has been out of action as of August 18th due to another thigh injury. Though he is training separately, he is close to recovering and training with the rest of the squad, something which should occur over the next few days.