Done deal: AC Milan take Brazilian starlet for January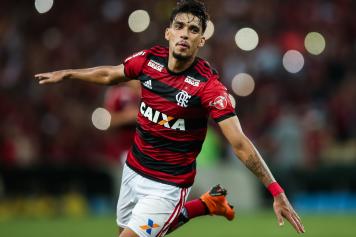 10 October at 15:36
Lucas Paquetá can be considered a new AC Milan player.
As reported by Fabrizio Romano,
the Brazilian talent from Flamengo, born in 1997, an attacking midfielder who can play even as half-wing, will join the Rossoneri from the next January. They key to seal the deal has been a real blitz by Leonardo, thanks to his excellent relations with Flamengo,
Leonardo has completed the transaction in the last 2 weeks for
35 million euro with bonuses: this is the definitive price that the Italian side will pay, with a discount on the 50 million provided for by the rescission clause. Paquetá will sign with AC Milan a contract for five years
and will soon complete his medicals, as Globo reported in Brazil.
Considered among the best young talents in South America,
Paquetá was in great demand by many top clubs in Europe
:
PSG
had come to offer just under 30 million, thanks to good relations with his agent, but they didn't seal the deal;
Manchester City
had arrived to propose 25 million plus bonuses, but without raising the first offer.
Milan took advantage of it
, found immediately the agreement with Paquetá and his agent, who came to Italy 10 days ago, then defined the details with Flamengo. So,from January, Lucas Paquetá will be one of the Rossoneri: the Brazilian shot by Leonardo' is already booked.
(Fabrizio Romano)
Emanuele Giulianelli @EmaGiulianelli