Donnarumma-Milan, a meeting will now soon occur...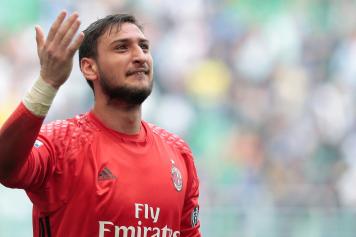 28 June at 09:30
"I am relaxed, I am not thinking about my situation as I am fully focused on the Euro's". This is what Giogio Donnarumma had to say to the press on Monday even if not many people believed him. With all of the circus surrounding Donnarumma over the past few weeks (and considering his young age), it is normal to be under stress.
He did not have the best Euro U-21 tournament as he conceded 6 goals on 10 shots (during the 4 games). Tonight he did not have much of a fault on any of Saul Niguez's goals (even if he could've anticipated the play better on the second goal) but he could've done better against the Czech Republic. Even if Donnarumma is known for his calm, it is normal for a youngster to feel the pressure...
His entourage could've tried to close a deal with Milan before the tournament but in the end this was not done. As Donnarumma announced (which was also confirmed by Mirabelli and Raiola), the parties will now meet in the coming days to finally end this saga. Milan are said to be optimistic as Fassone and Mirabelli seem confident that they can now find an agreement with Donnarumma (perhaps adding a release clause in his contract). There is only a few days to go and then Donnarumma's future will be known...
By Federico Albrizio (@Albri_Fede90), adapted and translated by Jean-Luca Mascaro (@CalcioNews89)