Donnarumma reveals AC Milan future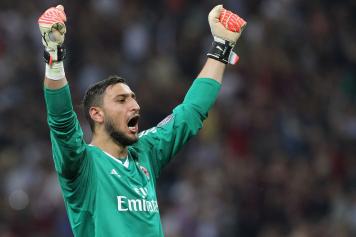 13 January at 10:20
Donnarumma has
no doubts over his future at AC Milan
. The 18-year-old has been in the spotlights since last summer when he extended his stay at the club signing a new € 6 million-a-year deal.
The Italian goalkeeper is chased by
both Psg and Real Madrid
and the
rossoneri
director of sport Massimiliano Mirabelli has recently admitted that the player can leave the San Siro if he wants.
"Donnarumma signed a contract extension with us and he was very happy about it. He has never told us that
he wants to leave. I'd love him to end his career at AC Milan but if would tell us that he wants to leave we would help him to leave
because we don't want to keep unhappy players",
Mirabelli said on Thursday.
The promising goalkeeper, however, has confirmed that he
won't be leaving AC Milan anytime in the future.
"No worries, I am going to stay at AC Milan", Donnarumma told AC Milan fans in Saint Moritz where he is spending his holidays alongside his girlfriend.