Dybala: 'Juve better than Real Madrid. Ronaldo will not win the Ballon d'Or'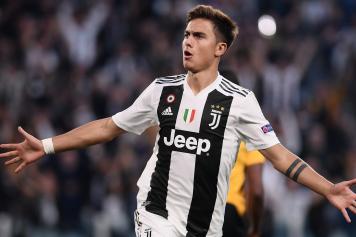 06 October at 15:15
Paulo Dybala is currently going through a very positive moment. He has scored a hattrick in the Champions League, his performances are improving in the league and it looks like his gloomy start to the campaign is forgotten. The Argentinian
spoke to La Gazzetta
dello
Sport
and reflected on the current situation.
Inzaghi, Del Piero, Vidal and now Dybala. What effect does it make to enter the Juventus hattrick club?
"I did not know, I found out later and I realized what I had done. Being a part of the club's history is an immense joy."
Elkann, Agnelli, Allegri: everyone has declared that the priority is the Champions League. Is the change of strategy perceived?
"For me, it was like this last year. For the Champions League, I would have sacrificed the Scudetto. Now the expectations have grown a lot but the mentality is always the same: to win everything."
This year it is difficult to find a stronger team than Juve in the Champions League...
"Last year it was the same. Real Madrid won it, but they did not prove to be stronger than us. If we had passed the round, everything would have changed. In my opinion, we would have won the Champions League and everyone would have said we were the best. There was not a team stronger than us."
How is Cristiano seen closely?
"The thing that amazed me most is his simplicity. If you see him on social media or TV you get a different idea, in reality, he is like all of us. He is very good at it and is 100% focused on every training session, but he is very quiet. He jokes and treats everyone the same way. He teases Cancelo for his language, says that he already speaks better Italian than him. He also started drinking mate like us South Americans."
Is the number 10 more a pride or a responsibility?
"It is a great responsibility. I have to be an example for children and the whole world is watching me. But when I play I do not think about the number and I would have never asked for 10. When the club proposed it to me, I did not decide in 10 minutes. I knew what I was going to encounter, I imagined the criticism after a bad match. I thought about it well and now I would not go back."
Who will win this season's Ballon d'Or?
"It is hard to say a name because there are so many. Varane should win for the titles, but I think Modric will win, he was also awarded with the FIFA Best. A player I like? Isco because he never loses the ball, but also Neymar and Mbappe are great players," Dybala concluded.