Dybala reveals how Ronaldo is helping Juve and makes Pogba transfer claim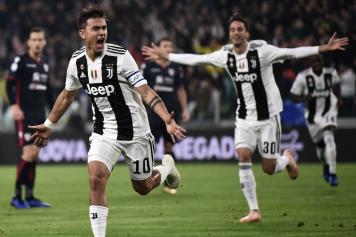 15 November at 16:20
We report some lines taken from the exclusive interview given by Paulo Dybala, Juventus striker from Argentina, to
Mirror Football.
Paulo Dybala sits, ponders, and smiles.
"La Joya [the jewel]," replies the Argentine, when asked about the origins of his nickname.
"I don't know who exactly but it was someone back when I played for Instituto who gave it me".
Now, 25 today, Dybala is one of the most recognisable stars in Serie A, a potential Ballon d'Or winner entrusted with Juventus' No.10 shirt, following in the footsteps of Michel Platini, Roberto Baggio and Alessandro Del Piero.
"A dream", insists Dybala, speaking in Milan. "It's a big responsibility to wear the No.10 at Juventus, and it was the club's decision, but I'm very happy with it and very proud.
"But the most important thing isn't the number on the shirt, it's what's in here," he adds, pointing to his heart.
Dybala has emerged as the Bianconeri's brightest star in recent seasons, fittingly, given his nickname, becoming their crown jewel.
Now, however, he is being lined up as one of Adidas' new kings - Lionel Messi, his compatriot with whom he is often compared, is now 31 and Adidas are aware of the need to build new stars, leading the company to hand Dybala the keys to one of their four boot franchises; his close friend, Manchester United midfielder Paul Pogba, has been handed another (Predator).
Dybala and the £89million World Cup winner only crossed paths in Turin for one season, but a close friendship blossomed.
They recently did battle in the Champions League - each notching a match winning goal on the other's home ground - and Dybala is hopeful that they will be teammates again some day.
"The first match was amazing for me, the second amazing for him.
"We have remained in touch since he left. "We're still very close and who knows, maybe in the future we can play together again."
Could that be at Manchester United? Quickly, almost instinctively, Dybala rebuffs.
"I'm not thinking about the transfer market. Right now I'm really happy at Juventus and the focus is simply winning all the titles here."
To some, the signing of Cristiano Ronaldo - the man who ended Juve's European dream in each of the last two years and has been lured for a total package in excess of £300m - plus the return of Leonardo Bonucci was a sign that Juve are in 'win-now' mode and that the Champions League is taking precedence.
According to Dybala, only half of that is true.
"At Juventus, it's always the same objective - to win titles.
"It's true that this year, from the outside, the Champions League looks more like an obsession. But the focus is, as always, on the domestic title as well.
"We will have a great chance to win the Champions League this year. Ronaldo provides us with another option and is a very good player and this year we have been playing really well.
"Last year we played against Madrid...and we almost won! In four years we have played i two finals.
"I believe in previous years we have proven that we are capable to win, but we have had a bit of bad luck, especially what happened last year against Madrid.
"Ever since Ronaldo arrived, we have been, and we are, really happy together," assures a smiling Dybala.
"I think we have been doing well. We have scored really important goals for Juventus together.
"Cristiano arrived only recently, but we all know the importance that he has on everyone and we knew his style from before.
"We know how he plays and how he works. Of course, you have to make small changes, but we are happy and we are going to score a lot of goals together."
Between them, the pair carry the weight of the Old Lady and the only aim is to win, no matter the competition.
Emanuele Giulianelli