€150m Barca star will be out until the New Year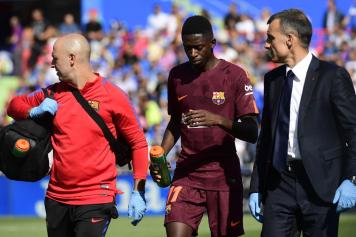 12 October at 12:15
Ousmane Dembele will only be back around the New Year,
the doctor who operated on him claims.
Dembele joined Barcelona for a massive
€
150 million in summer, but went down in an away game to Getafe, and was expected to be out for 3-4 months.
The French international waxed positive at the time, however, claiming that he'd be back in only two months.
Dr. Sakari Orava wasn't so optimistic, however:
"At this point everything is on course and the recovery is going well. A time scan? Like most youngsters he is optimistic, but my preference is to approach this with more caution and stay with the first timescale," Orava told El Mundo Deportivo.
"I am constantly in contact with Dr. Pruna at Barcelona and he is giving me detailed reports about what the player is doing."
Doctor Orava also provided an interesting alternative interpretation to why Dembele (who is only 21) went down so quickly. While Coach Ernesto Valverde claimed that it was a lack of experience, Orava claimed that it was the pressure from signing for such a massive franchise:
"The cause of injury? Maybe it was the pressure the pressure he had been exposed to after signing for the club, not saying he had previously felt pain in that area."