€55m Liverpool, Real target won't sign new Bundesliga deal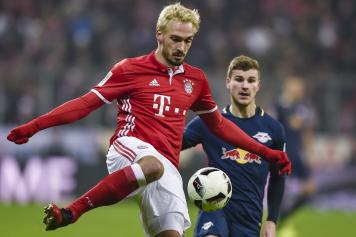 15 February at 15:50
Timo Werner has rejected a contract extension offer from RB Leipzig, according to the
latest reports from Tuttosport.
The German international is seen as being in major demand, even being linked to Real Madrid in recent months as they look to replace Karim Benzema.
The 21-year-old has already managed 14 goals in all competitions, plus three assists this season.
His deal expires in the summer, and he is liked by half the Premier League, including teams like Liverpool, Manchester United and Chelsea.
Yet Leipzig sporting director Ralf Rangnik has claimed that the
€
55 million-priced striker isn't going anywhere:
"There is nothing to be worried about. Timo is one of our best players and his contract runs through 2020. There is still plenty of time to talk, we are in no rush."
We wrote back in September about Werner responding poorly to the very loud noise made by Besiktas in a Champions league tie with RBL, the German saying that: "I asked for ear plugs, but they did not improve the situation."