EDF: Montella and I have a date in the Champions League final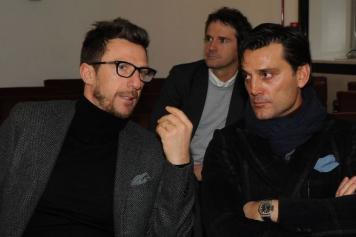 14 March at 22:00
Eusebio di Francesco is very chipper about beating Shakhtar Donetsk in the Champions League, and has joked with journalists that he wants to face Vincenzo Montella in the final!
The two are friends and former team-mates from their time together at Roma. While the Giallorossi were arguably favourites to defeat their Ukrainian visitors, Montella pulled off the real shock by downing Manchester United thanks to a second-half sub in Wissam Ben Yedder.
"I spoke to Vincenzo Montella a few days ago and we aim to meet in the final, this is why as friends we do not want to face each other at this stage of the competition," EDF said in the post-game press conference.
"Joking aside, we have to dream and be ambitious. I am not interested about the team we will face. Now we have to think of taking in what we have done.
"We must keep the balance, I am going to repeat this word six times, balance within this context and think about the next game against Crotone.
"Whatever happens in the Champions League is going to be welcomed and we will face it as a great team, you can be sure about this."