Enraged Lille fans spark riot, invade pitch, assault team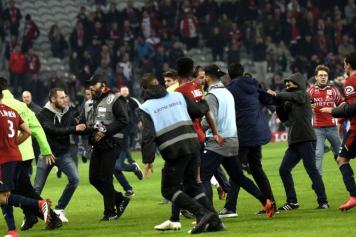 11 March at 12:50
Fans of struggling French club Lille charged onto the pitch to confront, insult, and threaten the players who drew with Montpellier 1-1 on Saturday.
At the final whistle, fans spilled onto the field at Stade Pierre-Mauory. Striker Nicolas Pepe was kicked in the leg by one fan and there were more flashpoints between fans and players as stewards struggled to control the situation. Defender Adama Soumaoro was also reportedly struck.
A line of stewards formed on the side of the pitch to hold back about 200 fans, who were chanting insults at the players and at president Gerard Lopez, just days after Lopez met with fan groups on Monday. They had reportedly assured him they would back the team until the end of the season, but the truce crumbled in seconds.
"You're dirtying our jersey, you're dirtying our jersey," the horde of irate fans chanted at the players.
Lille are next-to-last with only nine games left and fans issued a threat if things don't improve.
"If we go down, we'll take you down," some of them sang, as Lopez shook his head disapprovingly from the stands.