Ernesto Valverde: 'Will Messi be available? We're not sure yet'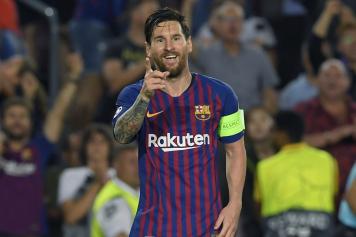 05 November at 20:35
Barcelona manager Ernesto Valverde has revealed that Lionel Messi could play for the Catalans in their upcoming UEFA Champions League game against Inter Milan on Wednesday.
The Argentine fractured his arm during Barca's 4-2 win over Sevilla in the La Liga. He was expected to be out for three weeks, as he missed the El Clasico against Real Madrid and didn't appear in Barcelona's game at the Nou Camp against Inter Milan in the Champions League.
With the Catalans' game coming up against Inter at the San Siro, Messi has traveled to Milan and trained too.
Ernesto Valverde revealed in
press-conference that he could feature in the game.
Valverde said: "Let's wait, I summoned everyone. Leo is at that time that may be available or not, but we do not know yet for sure.
"Let's see what happens after training, we do not want him to get hurt again. There is a possibility that he plays in the beginning, then goes on the bench and do not play or go on the bench and play."
I can not say anything, I repeat that I do not want to take risks."
For more transfer news and updates, click here