Everton-Arsenal 2-5 | Player ratings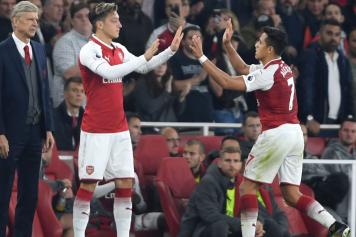 22 October at 18:00
The Toffees had the dream start they had hoped for on Sunday, but it was the Gunners that ran away with the match at Goodison Park.
Arsenal topped Everton, 5-2, behind goals from five separate goalscorers on the day to move into fifth place in the Premier League.
The defeat for Everton drops Ronald Koeman's side in the 18th place, as the club has managed just two wins in the first nine fixtures.
Nacho Monreal scored five minutes from halftime to level the scoreline at 1-1, after Wayne Rooney had given Everton an emphatic start with a curling effort in the 12th minute.
The second half was a drastically different story though for the home side as Arsenal began to go full throttle on the Merseyside club. Mesut Ozil gave the Gunners the lead in the 53rd minute after heading home a perfectly-weighted cross from Alexis Sanchez.
Things went from bad to worse for Everton with 22 minutes remaining as Idrissa Gueye picked up a second yellow card and was sent marching early.
Goals from Alexandre Lacazette, Aaron Ramsey and Sanchez in the late stages of the match sealed the victory for Arsene Wenger's crew, who will host Norwich City in the Carabao Cup on Wednesday before returning to league action next weekend.
Oumar Niasse gave Everton a second in stoppage time, but it was too late for the home side to mount a comeback.
Arsenal player ratings (0-10)
:
Cech: 6 -- Wasn't facing a ton of pressure, but did what was necessary on several occasions.
Koscielny: 5 -- Defended well at times, but wasn't tested too often.
Mertesacker: 6 -- Solid showing from the veteran defender.
Monreal: 7 -- Gave the Gunners a valuable equalizer heading into halftime.
Kolasinac: 6 -- Always a threat down the wing, but couldn't find the finishing touch despite being in the right spots at times.
Xhaka: 6 -- Nearly scored late with a wonderful blast off the crossbar, but an overall strong showing.
Ramsey: 8 -- There was a question at to whether the Welsh midfielder would play, and he certainly showed up in a big way.
Bellerin: 7 -- Looked active throughout the match, and played provider on several occasions.
Sanchez: 8 -- Picked out Ozil with a brilliant cross and found the back of the net with his own strike. Splendid match.
Ozil: 8 -- If he can stay healthy and play the way he did on Sunday, more Gunners supporters will want him to remain at the club.
Lacazette: 7 -- The Frenchman had his chances limited, but he capitalized when the match was still up for the taking.
Substitutions:
Jack Wilshere, Francis Coquelin
@MattReedFutbol
Matt Reed