Ex-Arsenal star: Did Wenger really want Aubameyang?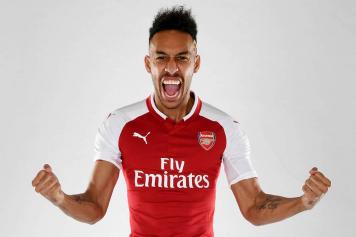 09 February at 15:30
Arsenal's recruitment of Pierre-Emerick Aubameyang has come under scrutiny from a former Gunner.
Speaking on Sky Sports News, where he is a regular pundit, Paul Merson was worried that the 65m German didn't come with a release clause, and felt that the deal was rushed and not typical of Arsene Wenger.
"These don't seem like Arsene Wenger signings to me," Merson said on The Debate.
"When has he ever bought a 29-year-old for £60m with no sell-on clause? Never ever.
Merson claimed that the Gabonese striker was probably acquired in a push for titles in the short-term.
Auba has already scored for the Gunners, netting on debut as Arsenal hammered Everton 5-1.
"Sir Alex Ferguson did it a few years ago," Merson continued.
"He said he needed to win the league and he got Robin van Persie to score him the goals to get above Manchester City.
"There was no sell-on, he got him to win the league, then he planned to retire.
"The Aubameyang signing says to me, 'this is a top-four signing then see you later.'"