Ex-Juve and Man Utd star: Media cost me place in squad for World Cup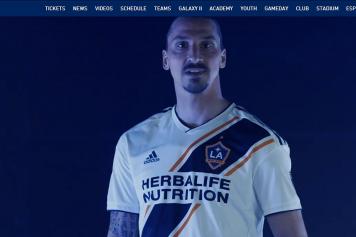 08 June at 15:55
Former Juventus, Inter and AC Milan striker Zlatan Ibrahimovic says Swedish media has cost him a place in Sweden's squad for the 2018 World Cup in Russia.
After leaving Manchester United following his 18-month spell, Zlatan Ibrahimovic signed for Major League Soccer side LA Galaxy earlier this year.
"This is the Swedish media mentality. I don't have a typical Swedish name. I'm not the typical Swedish attitude, behaviour and that and still I have the record in the national team,"
he said
.
"I think it's the biggest party in football, playing in the World Cup. All the best players are there. Zlatan is not there so… he should have been there. But he's
not there.
"I won what I won. I played in Ajax, Juventus, Inter, Barcelona, Milan, PSG, Manchester United and Galaxy. So if you don't know how to do it collective why did you play in the biggest teams in the world, and you won? I know how to win, trust me. And I do it good."
CLICK HERE TO READ SERIE A NEWS
CLICK HERE TO READ PREMIER LEAGUE NEWS
CLICK HERE TO READ LA LIGA NEWS