Exclusive: AC Milan and Sevilla make decision on Andre Silva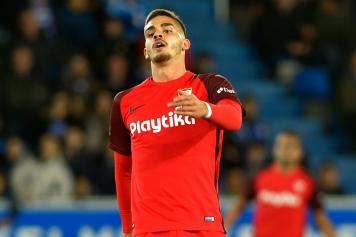 07 January at 10:05
Eight goals scored in the La Liga and a total appreciation from the coach and management. Andre Silva finished 2018 with Sevilla and feels that in 2019 he will still be in Spain because the feeling with the environment is getting stronger as well as the signs from the club regarding his future.
The Portuguese striker is on loan from AC Milan, for which the Andalusian club paid 4 million euros and will need to pay another 39 million payable over several years to redeem the player. One of the most expensive investments in the history of Sevilla but the decision is really maturing.
In recent days, Milan have found out that the Spanish club intends to redeem Andre Silva under the conditions set. Unless sudden breakdowns or injuries. In fact, Sevilla want to build the future with Andre and have also expressed this to his agent Jorge Mendes.
An important expense that will also guarantee a considerable income to Milan. The decision of Sevilla is clear but the evaluation with Mendes and the player will also have to be made because the agent is collecting requests and contacts for Andre Silva from many clubs, in particular, from the Premier League.
Sevilla wants to buy him, the road is marked given that there are no twists and Milan know it well. If Andre agrees to a move in May, he will remain in Sevilla and the
Rossoneri
shirt will remain a memory, despite the tie and respect of the striker for the club and its fans.
Fabrizio Romano. Translated by Nikita Fesyukov