Exclusive: Chelsea target Insigne's clause could be €200m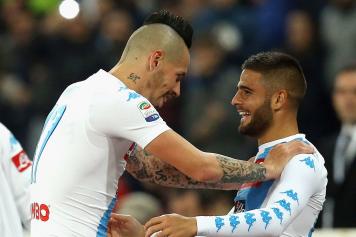 28 September at 10:00
Lorenzo Insigne changing agents won't affect his tenure at Napoli, we
can reveal through Fabrizio Romano.
In fact, our transfer market insider reports that Mino Raiola taking over the Chelsea target's brief won't be a problem for the Partenopei, and will likely make him ever harder to sign.
Also targeted by Liverpool, Insigne was at the centre of a bit of a controversy when Raiola stated in the past that he "had recommended Lorenzo to Barcelona to replace Neymar."
This hadn't gone down well with Napoli president De Laurentiis, who replied with a strong "over my dead body!"
And yet, Insigne joining up with Raiola should actually ramp up his release clause to €200 million.
Chelsea had asked after Insigne in the summer, but had been told that there was no way that Maurizio Sarri could take the 27-year-old with him.
Insigne has scored 69 goals for the Azzurri in 268 games in all competitions.