Exclusive: Conte in no rush to leave Chelsea, the truth about AC Milan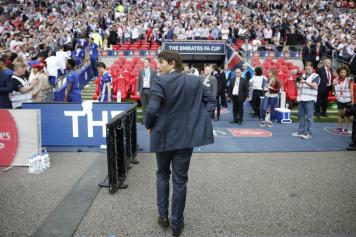 17 October at 10:11
Antonio Conte is one of the managers AC Milan executives are thinking of for the next campaign. It is no secret, in fact, that the
rossoneri
have been monitoring the Italian since very long time. Last summer they tried to tempt him away from Chelsea but the former Juventus boss opted to stay in South West London.
Inter did also try to hire Conte but, yet again, the Italian preferred to snub a move to Serie A and remain at Chelsea.
Conte confirmed a few weeks ago that he'd love to return to Italy one day but that does not mean the Chelsea boss wants to make return to Italy at all costs.
Our transfer pundit Fabrizio Romano,
in fact, reports Conte would snub a move to AC Milan right now. The Italian wants to coach a Champions League club next season and want to have the guarantees that money will be invested to sign new players.
AC Milan need to qualify for the Champions League this season and if they fail to do so, they would be forced to sell one of their top players to keep their books in order, not the best possible situation for Conte who is not on very good terms with Chelsea's board is not in a hurry to leave the club either.
As of today there have been no contacts between him and AC Milan but lack of Champions League football and short of cash for the next summer transfer would be enough Conte to snub a move to the San Siro.