Exclusive: Dybala's future depend on Allegri, Atletico challenge Man United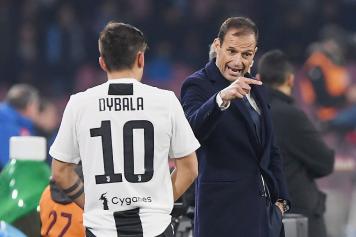 15 May at 16:15
Paulo Dybala could leave Juventus if Max Allegri stays. The Argentinean star is one of the unhappiest players with the manager because of the position he's been playing in this season and the permanence of Allegri at the Allianz Stadium could push him away from the Old Lady.
At the same time, Allegri thinks that Dybala can be sacrificed on the market, especially for an offer in the region of € 100 million.
Juventus, however, do not completely agree with their manager. Pavel Nedved, for example, has said many times to Dybala that he is not for sale and that he will be an added value for Juve in the coming years. The future of Dybala also depends on the offers that will arrive in the summer.
A part of the board doesn't want to sell him because of his technical qualities and because Dybala is the biggest brand of Juventus after Cristiano Ronaldo
.
In Allegri's opinion, however,
Dybala can be sacrificed and this is a matter that will be discussed during today's meeting
.
Meantime, the entourage of the player has resumed contacts with Bayern Munich and Manchester United
and Atletico Madrid are also thinking about La Joya to replace Griezmann who
is set to join Barcelona for € 125 million.
His future is pending and it is also linked with Allegri's.
@NicolaBalice