Exclusive: former Arsenal starlet reveals why he left the Gunners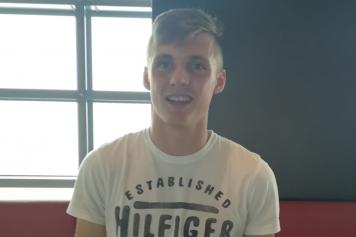 10 October at 14:55
Fiorentina signed a promising striker last summer, his name is Martin Graiciar and he has spent part of his young career playing for Arsenal youth teams. The 18-year-old striker is currently out on loan at Slovan Liberec but his objective is to make return to the Franchi in the summer.
A product of Victoria Plzen academy, Graiciar has released an interview with our Alessandro De Felice explaining why he had to leave Arsenal. Graiciar has two goals in four appearances with Slovan Liberec so far this season.
Can you tell us something about you? What kind of player are you?
"Well, I am classic centre forward and I like to play in a 4-2-3-1 formation or in a 3-5-2. I like Pierre-Emerick Aubameyang and I think we are pretty similar. He is a centre forward but he is also very fast."
What about your time at Arsenal?
"It's one of the best clubs in the world. I arrived in London when I was 14-year-old. I played with the U18 team, the U20 and with Arsenal second team. After a few months of trails Wenger told me that I was an interesting player and that he thought he would have signed me on a permanent deal. In that moment, however, it was not possible for me because under the FIFA rules, a club can only sign a player after that he has turned 16. I waited for a year and a half but when the moment had come I got injured and I had to remain on the sidelines for more than one year. Arsenal had been following me after the injury but they didn't sign me in the end. Now I am focused on Fiorentina. Everyone is very friendly at the club and I was left impressed by the clubs' training facilities.
Why did you join Solvan Liberec?
"I spent six years in Plzen but there were some problems with my promotion to senior team. They told me I would have trained with the senior squad but it never happened. They didn't keep their promise. I had many offers but I chose Slovan because there was a chance to play in the senior team."
What about Fiorentina?
"They contacted me after a game I played against Brazil in the World Cup Youth Festival in Toulon. I played a good game and I had also scored against Scotland during the same competition. Fiorentina had been scouting me already and they finally decided to sign me. I signed with the, just before the beginning of the U19 European Championship. I decided to stay at Slovan Liberec on loan because it would have been easier for me to get senior game time."