Exclusive: Genoa open up to a Piatek sale as Milan look on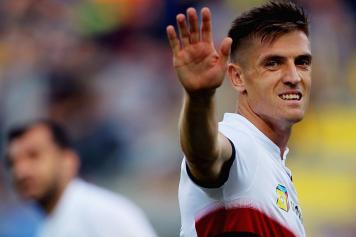 14 January at 22:10
He wasn't very well known a few months ago but he is now one of the top Italian Serie A players. We are talking about Krzysztof Piatek from Genoa. There is a lot of uncertainty concerning Gonzalo Higuain's future as it seems like the Argentine star asked to leave the rossoneri club to join Maurizio Sarri's Chelsea. It remains to be seen if Milan will grant him his wish but to do so, the rossoneri would first have to find a replacement for Higuain. According to
Calciomercato.com
sources, it seems like Genoa are open to the idea of beginning talks with clubs interested in Piatek. The rossoneri haven't made any offers yet to Genoa for the Polish star since they first want to see what will happen with Higuain.
GENOA'S CONDITIONS - Genoa want to get at least 40 million euros for Piatek as they want to sell him in a permanent way. They don't want to sell him on a loan with an option to buy as they want the money right away. Milan are evaluating the situation as he is high on their wish-list. From Higuain to Piatek, Milan look on...
For more news visit Calciomercato.com right now.