Exclusive: Giuseppe Rossi speaks about his future, MLS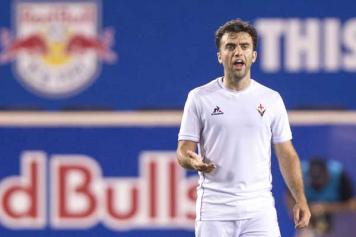 26 October at 19:00
​
While continuing his recovery from the fourth ligament tear in his career, Giuseppe Rossi appeared at a sponsorship event in Milan. CalcioMercato was able to speak with him exclusively about his future.
The American-born striker is without a team, and has been training at Red Bull Training Facility in New Jersey. Despite spending time with his boyhood team, he sees no future with Red Bull New York. In fact, he doesn't see a future in MLS.
'Pepito' made it clear that he doesn't want to play soccer in his birth country. He wants to continue his career in Italy. "I would like to go back to Italy, if there are teams who want me, if there is interest, he told Calciomercato.com. "I just want to touch the grass and run with my teammates." The former-Italian national team striker moved to Italy when he was just a child, and sees it as his home.
When asked where he sees himself in one year from now, he was very confident in his response. "I see myself playing and scoring goals."
He began his career with Parma and played with Manchester United, Newcastle, and Villarreal before moving to Fiorentina. At the Florentine club his career blossomed, culminating with his dominant performance for the Italian national team at the 2009 Confederations Cup.
He spoke glowingly about his time with the Italian national team. "They are the most beautiful games to play, with a nation that looks up to you."
Unfortunately, through no fault of his own, Rossi's career began to unravel during his time in Florence. He's suffered through four separate ligament tears, among other injuries. Since then, he's moved around Spanish clubs Levante and Celta de Vigo - where he tore his ACL again at the conclusion of last season.
Despite the setbacks, it appears he's not ready to abandon his dreams. 
As far as the MLS Cup Playoffs, which began Wednesday night, there's only one team he's supporting, the New York Red Bulls. He wants to see them win their first championship in the club's 21 year history.
Matthew Klimberg