Exclusive: Inter eye two Chelsea targets, but need to pick a Coach first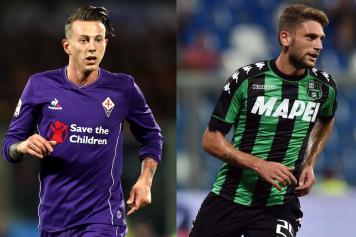 08 March at 13:50
Inter's courtship of Domenico Berardi and Federico Bernardeschi will depend on the next manager at the San Siro, Emanuele Tramacere reveals.

Inter's new owners have made it clear that they want one or more talented Italians to appeal to the fanbase, and they want them to be famous.
In this case, both Berardi and Bernardeschi are important enough to have attracted interest from one or more of the following clubs, which include Juventus, Chelsea, Barcelona, Liverpool, Arsenal and Manchester United.
Both players are worth over 35 million, meaning that Inter are unlikely to nab both.
So who will they go for? That will depend, we can reveal, on who will be Coaching next season, whether incumbent Stefano Pioli, Chelsea man Antonio Conte (a great admirer of both players) or Diego Simeone.
Simeone has long been a fan of Berardi's, and wants to use him in a 4-4-2 as the Ferreira-Carrasco type, or even the support striker in that lineup.
Conte, for his part, prefers Bernardeschi in terms of flexibility, and can be used either as a wingback in a 3-5-2 or as a second striker as he did in Conte's Italy.
Pioli, for his part, doesn't have a preference, and would take Felipe Anderson with him if he could. Now that he's made peace with Candreva, it looks like the former Lazio man is one of his most loyal men in the dressing room, meaning no big move…
SURVEY: WOULD YOU PREFER
BERARDI O BERNARDESCHI?