Exclusive: Inter want to offer contract for life to Liverpool target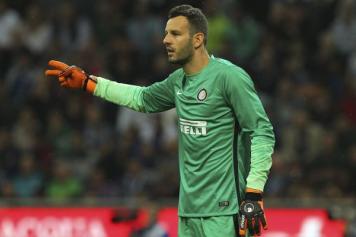 21 September at 14:10
Inter are planning to sign Samir Handanovic to a contract extension,
we can exclusively reveal.
The Nerazzurri are, Fabrizio Romano writes, thinking of adding another year or two to the Liverpool target's deal, which currently expires in 2019.
There's more: not only does the goalkeeper's agent, Fali Ramadani, seem to want to do this too, so are Inter thinking of lining up a younger goalkeeper alongside him, one who could take over in the future.
The idea is that he would still earn 2.5 million a year, but that Inter are looking for someone to replace him.
Handanovic had a decent start to the season, making a couple of basic mistakes against Bologna and SPAL (bobbles and poor clearances) but also pulling off the usual stunning, reflex saves he is respected for.
The Nerazzurri were linked to Mattia Perin this summer, but still don't want to lose out on their Number 1. This would essentially be a contract until the end of his career.

Fabrizio Romano