Exclusive: Juve-Mendes relationship solidifying with many players in the background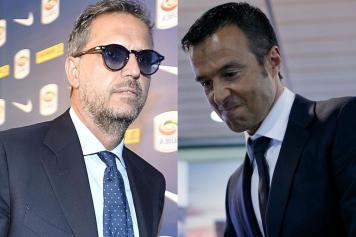 17 October at 12:05
Juventus are a club that knows how to take the best from every opportunity. Over the years the club has set this mentality with agents of all kinds, from the most influential to the emerging ones. This also applies to Jorge Mendes, one of the most important agents in international football.
Mendes often tends to "colonize" clubs with whom he has a better relationship, but it will not work like this with Juventus, which is evident based on the last months as well as the managerial mentality at the
Bianconeri.
Fabio Paratici has a wonderful relationship with Mendes as is evident from the Cristiano Ronaldo operation as well as the move that brought Joao Cancelo to Turin. The Juve sporting director will only continue to do business with Mendes for operations that can be really smart for the club.
Not surprisingly, a year ago, Juventus put a stop to the proposal of Andre Gomes that was born from the idea of the same Mendes. This refusal was not a problem for other operations such as Ronaldo, quite the contrary.
At the moment, Mendes is testing the ground with many clubs for James Rodriguez who is unhappy at Bayern. And while PSG offers a renewal, even Angel Di Maria is a name approaching Juventus, because his contract in France expires next June.
However, Juventus are not too interested in James due to the costs of a potential operation: at least 70 million euros, nor they are accelerating for the Argentinian International.
Today the names on Paratici's list are different, despite the ideas of Mendes who proposes his players to many clubs as per his style. Juventus, however, can also say not, brake when needed and accelerate with the right pawns, as shown with Ronaldo and Cancelo. The feeling is that it may soon go on like this again.
Fabrizio Romano. Translated by Nikita Fesyukov