Exclusive, Macheda: "I have only one regret about Man Utd"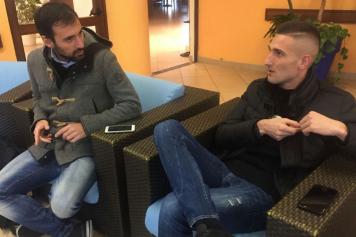 14 December at 12:30
Since making a dream debut for Manchester United against Aston Villa all those years ago, Federico Macheda's career has taken a very different path to that which was expected at the time. During an interview with Calciomercato.com, he explained what led him to join Novara, and if he regrets the way in which things panned out with the Premier League giants:
"Novara? I wanted to get back into the game and I wanted to restart my career in Italy. I had several offers, even from abroad, but Novara seemed like the best place for me. In terms of goals, it has gone well. The first priority was to get back in shape, and then to rediscover my goalscoring form. I always try to set an example to the younger players, by giving everything in training from start to finish.
"Why stay? I received lots of offers last summer, but I decided to renew my contract here at Novara. I'm happy here, my wife likes it here, my son was born here and we love how peaceful Novara is.
"Lazio? I like the current Biancocelesti team. Inzaghi is a good coach and there are great players in the squad. It's a shame about the last game though. Playing for Lazio is a dream of mine. I left early to go to Manchester United, but I have always followed their results.
"I advise the younger players to listen to close relatives and friends, and to surround themselves with people who really love them. It's never easy to manage pressure. You just have to focus on what you do on the pitch, and don't worry too much about what the media is saying.
"Regrets? I have only one. When I made the step up to the Manchester United first team, I had to give three times as much as what I had already. I didn't, which is the only regret I have. I've learned a lot from that mistake."
(@AngeTaglieri88)
Jordan Russell (@JordRuss96)