EXCLUSIVE: Michael Bolingbroke to face questions over Inter's lack of sponsorship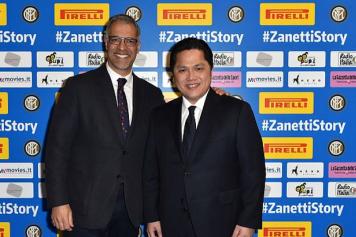 09 February at 18:48
Inter have lost ground in Serie A as Roberto Mancini's side were the table leaders this past December, before being leapfrogged by Napoli, Juventus and Fiorentina.
Team's struggles, by the way, are not the only reasons behind Erick Thohir's concern. As previously reported,
the Nerazzurri president will land in Milan this Friday
to plan the club's future strategies.
The Indonesian businessman is reportedly very worried about
Inter's lack of sponsorships
, even if he's hired a good number of specialized professionals in this sector.
Inter's
CEO Michael Bolingbroke
is expected to explain in detail his plans to boost the club's incomes from sponsorships.
Things looked rosy at the beginning of the season as Inter planned to seal a
€ 20 million a year jersey sponsorship deal
, but reality is that today the only plausible option is
extending Pirelli's agreement which is worth a bit less than € 10 million
, while the
Biscione
's rivals Milan and Juventus earn
€ 20 and € 17 million respectively
from their jersey sponsors.
Inter also came close to be cheated out of money last month as a man who pretended to be a representative from Etihad Airways proposed the club a fake sponsorship offer. During negotiations with the fake representative, Inter
snubbed their historic sponsor Pirelli
which now want to impose their terms and conditions on the deal.
But that's not all. Inter, for example, had also planned to sell their training center naming rights, but, at least for now, no suitors shown up.
Lorenzo Bettoni @lorebetto