Exclusive Nuno Gomes: 'Milan expect too much from André Silva. Joao Mario...'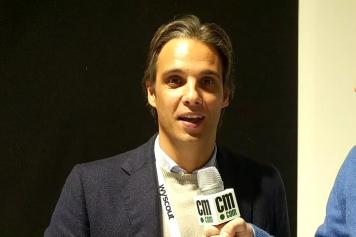 08 November at 18:23
While attending the Wyscout Forum at Stamford Bridge in London, former Benfica and Fiorentina striker Nuno Gomes stopped by for an exclusive interview with Calciomercato.com' Alessandro Di Gioia and Emanuele Tramacere . He discussed a variety of issues ranging from his career as a player to current matter such as Portuguese players currently plying their trade in Italy. He also discussed several hot prospects from his homeland, as well as Gabigol who is of course on loan at Benfica from Inter this season. Here is what he had to say:
​What do you make of Fiorentina this season?
"They have started from scratch, and have built a new squad. They did well to begin with, but now they are struggling and must work hard. I like Pioli, he has clear ideas about football. This is the right path to follow. I envisage Fiorentina finishing outside the top five, but they will fight for the Europa League."
Do you like Simeone?
"He is a good striker, he did very well at Genoa. I also like Federico Chiesa, Enrico's son, who played with me. They are two great youngsters."
​André Silva is struggling in Milan: was it a good deal for you?
"He always scores for Portugal, but it is not easy for a young striker to come to Italy and hit the ground running. When a team is struggling, like Milan are this season, strikers tend to suffer more. He must adapt to Italian football, but he has a lot of quality and will show this. Maybe they expect too much from him just now, I've also struggled tactically in Italy."
And Gabigol? He has stuttered in Italy and also in Portugal… is he suited to European football?
"He is a typical Brazilian player, who can decide a match on his own. He suffered in Italy and is not playing much at Benfica, but he has quality. He must work hard and prove his worth."
João Mário has found his place in the national team, but is struggling at Inter. PSG want him. In your opinion, where would be better for him to develop?
"For me, he is a deep-lying midfielder. Technically he is very good and, watching him play, I can see that he is a great player with good tactical understanding of the game. He is struggling at the moment because the system does not suit him. If PSG want him, it surely means he has quality."
Which young Portuguese talents should we be keeping an eye on just now?
"Rúben Dias, a Benfica centre-back, is very strong. Diogo Gonçalves and João Carvalho, also of Benfica, and Gelson Martins of Sporting CP are also very interesting players." Who will win the league title in Italy? "Good question. There is much more competition this year, so it is not a given that Juventus will be champions."
And the Champions League?
"I like PSG and Manchester City, but I see the usual suspects being in contention, and Juve of course."